«Previous: Steve Reddy - Wolfpack

Rob Fish - Release, Ressurection, 108, Judas Factor, ...
-- Wednesday, January 18, 2006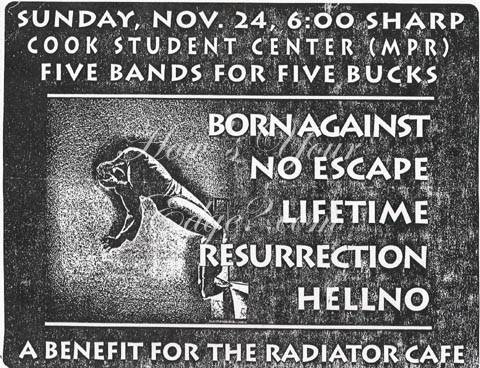 HYE - Yo, how's your edge?

RF - I'd say it is doing very well.

HYE - How did it all start for you? Where did you first learn about hardcore?

RF - Well I didn't really have much interest in music until I was 8 or 9 (80-81) at which time I started to listen to early hip hop music. Basically a kid moved to the neighborhood from Spanish Harlem and we became friends. He and his older brother turned me onto rap. In 1984 I started to lose some interest in the music and became interested in skateboarding and the music was a sort of sidebar. On my first day of High School I walked into woodshop class and took a seat next to the resident metal head. Turned out to be someone I knew from fourth grade. We started to talk about music and he handed me a tape of Black Flag. From that point I became obsessed with punk music. Within weeks I was primarily hooked on West Coast Punk (i.e. Black Flag, Dead Kennedy's, Circle Jerks, etc.) but also took a liking to Minor Threat. Due to some family experiences I took to the straight edge thing. That was it. At the same time I identified myself as a punk kid and didn't take to the straight edge scene until 1986.

HYE - Going along with the last question, when did you fully realize what straight edge was? And what does it mean to you now?

RF - I realized what straight edge was with Minor Threat but didn't become involved in the Straight Edge scene until 1986. In other words where I lived there was just a small scene and no difference between the normal punk kids and the straight edge kid except we didn't drink, do drugs or smoke. So I was Straight Edge but it wasn't as a significant part of the punk experience until late 1986 as the number of Straight Edge kids in our area started to increase and we starting going to CBGB's where straight edge was becoming it's own subculture within the music. At that point we started to identify ourselves as Straight Edge kids as opposed to punk kids who were straight edge.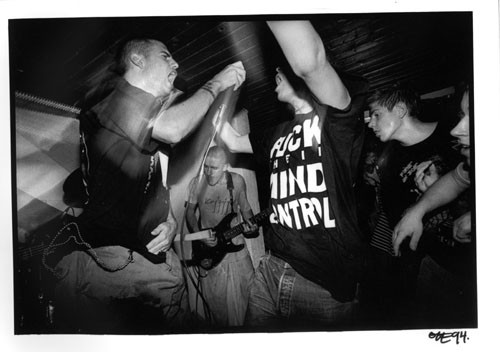 HYE - You've had a pretty illustrious career as a "band guy." Break down what bands you have been in and what some of your favorite RELEASEs have been (oh, I kill myself).

RF - I sang for Release (1988-1990), Ressurection (1991-1994), 108 (1993-1996) and The Judas Factor (1998-2000). Of those bands I would say my favorite releases would be Ballads in Blue China (The Judas Factor), Threefold Misery (108) and I Refuse (Ressurection). I really like the Ressurection lp, and songs for that matter, but the recordings are painful. In hindsight $600 and a day isn't enough to record and mix an album. I can listen to Songs of Separation (108) and Kiss Suicide (The Judas Factor). The rest of it I don't care for.

HYE - You forgot something pretty important for the first Ressurection show. What was this item, and who eventually let you borrow theirs?

RF - Depends if you are talking about the first show we were booked to play or the first one we played. The answer could range from sneakers to most instruments. I believe you are talking about shoes but they weren't forgotten rather lost on the way to the show.

HYE - Currently, you are a manager for a large company that specializes in any tasks that are perfect for DIY zine making. How many zines do you think your managerial region is currently producing? Any we should be looking to pick up?

RF - To be honest I don't think there are any fanzines coming out of my District. There is a stark difference between the scene from my period and today. Today everyone puts out records and does a fanzine because it is extremely easy. Most of the fanzines these days seem to be webzines or blogs verse the paper fanzines of yore. I would have to say I prefer it that way because back in the day kids produced the fanzines because they didn't pay for them and, well, it would be a shame to see someone get caught doing that in my District! If there is anyone producing a fanzine in my District I have yet to see it. I have received cd's of some of their bands and things of that nature which is pretty cool. I don't know that I have found one that I am into but I appreciate it.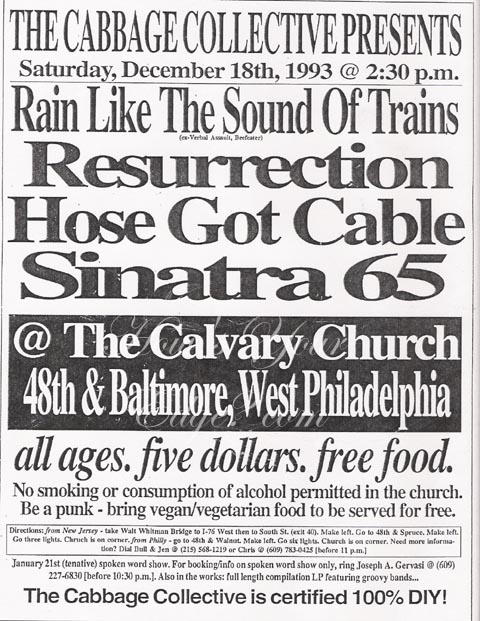 HYE - Besides the job, what else is going on with 2k6 Rob Fish? Any current projects or notable happenings?

RF - Well I have two amazing boys. Ras (8) and Chaitan (3) and I currently live in Northern California. I still write a lot but between my children, work and where I live I haven't done much with what I have written. Due to several different circumstances it seems that my family and I will relocate to the Gainesville, FL area this summer. If that is the case I will most likely begin recording and playing new music since I have some friends in the area who I have worked with before and whom I would like to work with in the future.

HYE - How in touch are you with the current hardcore scene? What bands are currently twisting your screw?

RF - I would say I am on the outside. First and foremost I simply don't relate with much of what I see and hear today. I don't maintain that there is anything wrong or less pure about what is out there today but it doesn't particular interest me. Still I travel a lot, which means a lot of times in hotels, so I tend to look around on the web to check out what is going on in the punk scene. Of the bands that are around and playing today I dig Lords, These Arms are Snakes, The (International) Noise Conspiracy, Champion, Charge, Kill the Messenger, Paint it Black and Accidental Gun Death.

HYE - What is getting lots of play on your stereo these days (core or not)?

RF - Oasis, Drive Like Jehu, Black Flag, Absolution, Desaparecidos, Rollins (Hot Animal Sex Machine), Manic Street Preachers and Cap'n Jazz are the most popular.




HYE - Over the years, you have become more and more spiritual. Does hardcore and spirituality have an intrinsic connection, or are they totally disconnected?

RF - I would say so. Mind you I am speaking in terms of personal spirituality rather than institutional/theological dogma. To me punk/hardcore was always about finding yourself, asserting your values and questioning oneself and those around you; spirituality is a part of that. For those that knew me institutional thought was never my thing although I associated with and was associated with an institution I never really fit or tried to fit in.

HYE - Along the lines of spirituality, I have heard that you were famous for littering. Do you think you have a lot of bad karma to overcome from that?

RF - I think I moved on from that phase before I hit 18. Of all of my youthful misdeeds littering is probably pretty low in terms of the magnitude. Based on my life I am pretty sure I have received my fair share of karma for my missteps.

HYE - What was your favorite show that you didn't have to perform at and why? What about the best show you played (if you want to break it down per band, fine by me)?

RF - There are a bunch of shows that remain in my head and I really doubt I could claim one to be the best. Corrosion of Conformity at Middlesex County College (Edison, NJ) in 1996 was very cool. I loved COC and that was the first time I got the chance to see them live which was amazing. I remember the envy I had for Ari because he had money to buy COC Boxer Shorts. Fucker. Years later a friend Kevin Nash gave me a old COC Banner which I still have till this day.

Absolutions first show at CBGB's (was also Raw Deals first show). Absolution opened the show and they played it like it was their show and the rest of the bands didn't exist. I loved the attitude.

Bl'ast in 2002. Kent McClard put on a Ressurection, Lifetime and Downcast show on our first tour in the upstairs of some club. After the show we are loading out and we hear a band in the main area of the club tuning up. We walk in and there is 1 person there. I remember standing their in disbelief to see Bl'ast, minus Clifford, getting ready to play. They played as a three piece in front of 1 paying person and the members of Lifetime and Ressurection and were amazing. Personally I was never very into Clifford so it was even better.

As far as shows I played a few come to mind from each band:

Ressurection: Lifetime, No Escape and Worlds Collide in Atlantic City. It was towards the beginning of the band and I remember how enjoyable it was to watch the horror on people's faces when we played. Needless to say we didn't sound like what they were expecting.

Ressurection, Gorilla Biscuits and NoFX at City Gardens (Trenton, NJ). We received 50 test presses of our ep the day of the show. Chris Daly and I made the covers (attached) and wrote personal messages on each copy. Coincidentally most of the personal messages were to GB making fun of them for their disconnect with Straight Edge. I remember when we played looking over and the GB guys were all watching us and enjoying it. Afterwards we are upstairs in the band room and the GB guys come in and tell us how much they liked us and Walter, whom I didn't know well at the time, asked for a copy of our record. We snickered and gave it to him. I don't think he found the message too amusing.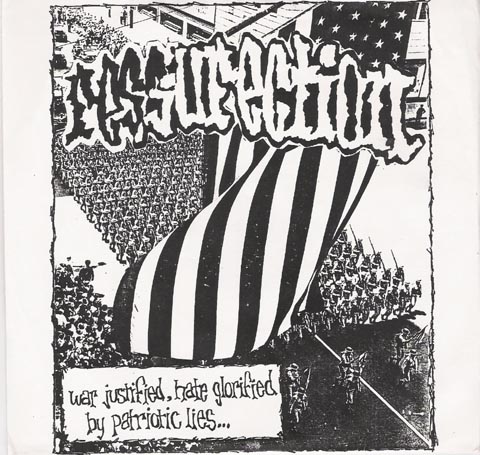 I also remember a show in the Allentown area with Lifetime, Mouthpiece and Concerned I believe. I remember as we finished setting up and turning around to see canisters of mace sitting atop all of the amplifiers and next to the drums. I think we made it half way through the set before the skinhead thing was out of control and lots of mace was sprayed and pool sticks broken. There is a photo from this show that was on the cover of the It's For Life Comp where I have lots of messages written all over my body for our skinhead friends. I remember that period of Ressurection because literally half of the shows ended in mini riots and violence resulting in tensions with skinheads and bouncers.

108: Too many to name really. Our first show at the Unisound. We had recorded a record and then I quit the band. The band played 3 shows with Vic singing which didn't work out so 108 broke up. After six months we decided to give it a go and had a 5 month US Tour booked with Shelter. By the time of our first show on May 15, 2003 the record was already out. I just remember setting up there was a lot of excitement and when we hit our first chord everyone went ballistic. The show was out of control because of the pent up energy we had as well as a crowd of 700 or so kids excited to see us and by that time they knew most of the songs. Needless to say it wasn't a typical first show.

108, Snapcase and Earth Crisis at the Wetlands. I always loved playing this club. Great staff, great sound and fun club. This show was way oversold. I remember seeing a video of it once and literally you couldn't see the band because of how many people were on stage. I remember a distinct moment when I was practically on top of the drums and Chris, Vic and I all looked at one another and it was just this feeling. Every kid, singing every word and just a great atmosphere.

108 and Refused in Umea, Sweden. This was on 108's first European tour and Refused were our support band. The shows leading up were amazing. 108 had 2 records out at that point and all of the shows were amazing. I remember before the show in Umea, Refuses hometown, I was standing on the roof of the school we were playing at with Dennis, the singer of Refused, and watching all of the kids coming to the shows on their bikes. I think the average age of the kids was 12. When Doughnuts was playing I was standing on the side of the stage with Kate (108 Guitarist) and Lenny (Roadie) and watching these little kids going nuts. I remember between songs I looked at Kate and Lenny and remarked how damn cute these kids were. we all burst into laughter because it was rare to watch kids at a show and remark at how cute they were. When we played I kept reminding myself, no stage diving, because I would literally kill these kids because they were so small.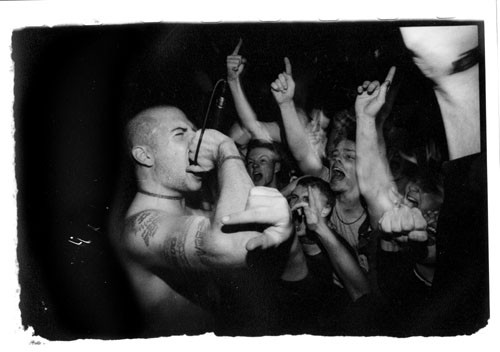 The Judas Factor and Bread and Circuits somewhere in the Midwest. I remember when we pulled up to the show and wondering if any kids would be there. The little town looked like a ghost town and it was eerie. Literally it was four blocks and every store was closed but this coffee shop. By the time doors opened it was a really good crowd. It was cool to play with B&C because I liked them and they were a bit older so it was easier to relate to them and just hang out and talk. That was one thing that was really strange for me when I did the tour with The Judas Factor. I felt, and probably was, so much older than most of the kids and felt sort of estranged from the scene. Still the kids were totally amazing and the show was one of my all time favorites.

HYE - In that last question, you give a run down of your favorite shows your bands played at. However, you list the first as Ressurection. You didn't mention anything Release related. Was this on purpose, or did it just slip your mind?

RF - I tried to remember some specific things from Release but really couldn't remember anything; at least not a complete story. To be honest I don;t remember a tremendous amount pre 1993... probably a defense mechanism due to all of the shit I went through.

HYE - It has been said that you were various generous with your hardcore gear. What is the best thing you ever gave to someone for buying you lunch?

RF - If you are hungry enough a Release varsity jacket is a very small price to pay.

HYE - List your top 5 shirts/records that you

I was never one to collect records or shirts. I would generally buy them and when I wasn't interested anymore I would sell them or give them away. Sorry for the bad answer but I never really got into it. If there was a record I wanted and could find it I was more than happy with a tape of it.

HYE - Any final thoughts or closing shout outs?

RF - The past is never as great, or probably in my case not as bad, as we remember it and today and the future are what we make it and how we choose to see it. To me this is especially relevant in terms of how we view the punk/hardcore scene. Since this is a site pertaining to those that were involved with the Straight edge scene I am happy to be one of those who still realizes the value in being drug and alcohol free. At least the two straight edge tattoos and 17 combined X's don't require a cover up or witty reasoning.


HYE - Thanks. Also, pics and flyers courtesy of Rob Fish. If you know who took the original shots, please let me know.

Labels: interview
---
Added in the last 7 days:
Swap Lists: 0 / 155
Shirts: 0 / 1871
By band(s):

Collections:

The last 5 reviews added to the Review Section:

could not open xml feed for input